Hello guys, back again to break down my Kai fire Spinjitzu effect! This one was a lot more involved than my previous Jay lightning effect test, as I wanted to use the new Spinjitzu spinner pieces in some sort of effect. If you haven't seen this clip, I've linked it at the bottom of this thread for your convenience.


1. The Animation
The raw animation shifts between Kai's minifigure on his own, and Kai within the new spinner piece. Here is the original clip with
no After Effects work
:
I tried using an LED strip like in my Jay Lightning Effects test, but the red was too subtle to be noticed. I tried several other RGB LED combinations, but I ran into a lot of technical issues. What technical issues, you may ask? Just read
this Wikipedia article
for my best guess about what went wrong.
I used the orange
Power Blast fists
to represent the fire charge-up effect and the
Spinjitzu Kai tornado piece
to represent the actual Spinjitzu tornado effect. I wanted the effect to revolve around this piece as opposed to, say, rendering a tornado in Blender, Cinema4D, etc.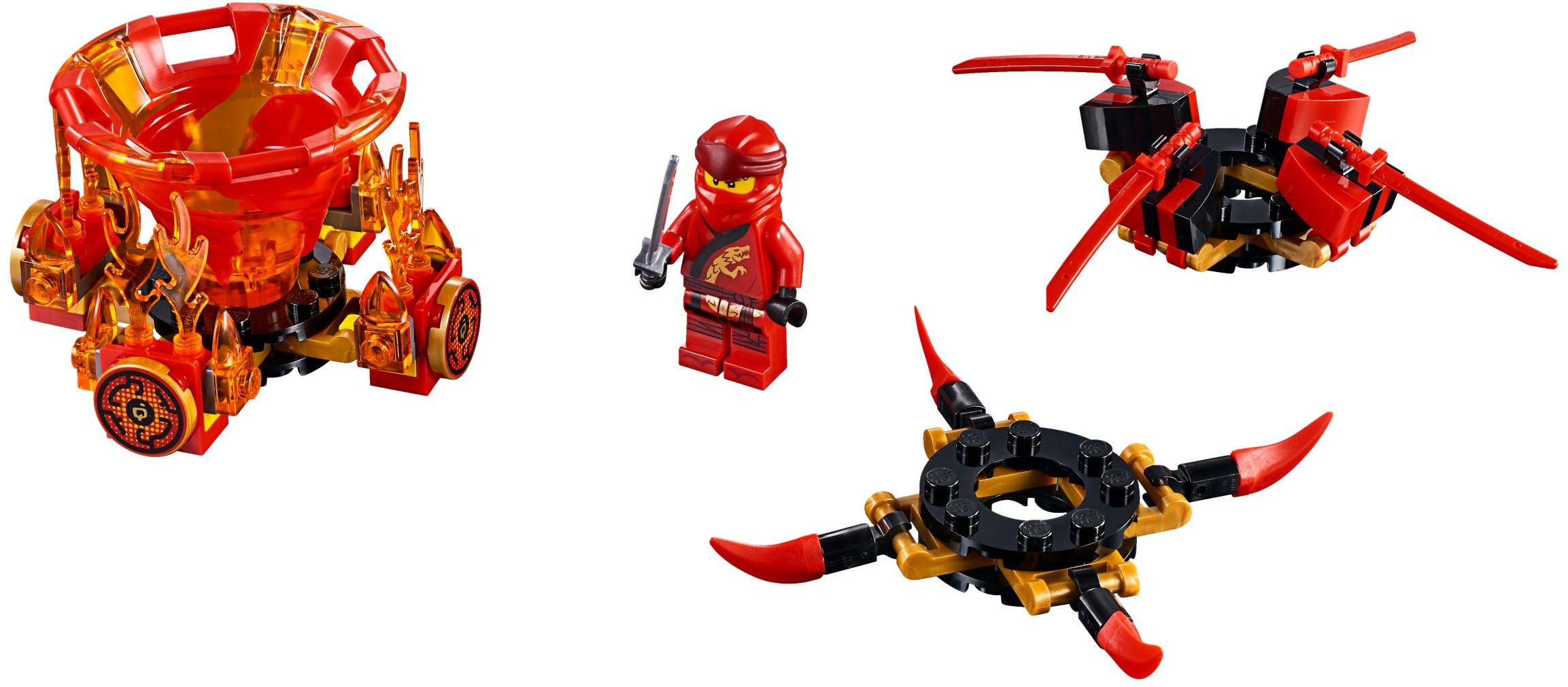 2. The Composition - Fists o' Fire
Just like with Jay's fists o' lightning, I created three layers in the composition: a clean plate, a right-hand layer, and a left-hand layer. I created a rough mask around the Power Blast elements for each hand and added the
Video Copilot Saber Plugin Effect
to the two hand layers.
I set the Preset to
Fire
, the color to bright orange, and a keyframed Glow Intensity starting at
50%
. The Core Type is set for the Layer Masks, with Alpha Mode at Mask Glow. This allows the effect to wrap around the Power Blast elements' masks. I really cranked up the Halo Intensity and Halo Size to 311% and 640%, considering that the LED strip idea did not work at all.
Curse you, Nyquist frequencies!
3. The Composition - Tornado
Here is a shot of the tornado with no effects added. In the show
Ninjago: Masters of Spinjitzu
, the tornado oscillates as a series of coiling layers with a brilliant glow. If I had more powerful tools, I think I could have gotten a better effect across the tornado body (anyone wanna get me the
Trapcode suite
and a
NVIDIA RTX 2018 Ti GPU
for Christmas, please?) but since I only had After Effects and Saber at my disposal, I had to get creative.
Layer #1:
I drew a simple mask around the tornado and added the Saber plugin, using the same exact parameters as I did for the fists above.
Layer #2:
I added a Glow around the tornado, putting the Glow Intensity at 20% and the Glow Radius at 50%. This helped fill in the space within the burning radius.
Layer #3:
I added a CC Particle World layer to add some sparks, changing the X, Y, and Z coordinates and radii to make the particles launch behind the tornado as it went. All six of these parameters shift over time until the tornado dies down.
Layer #4:
I added a layer of embers stock footage from
FootageCrate
to give it an extra bit of punch - recommended by
@dudebrick
,
@SuitedNinjaNerd Studios
, and
@Locker_74_Productions
. This layer also moves along with the tornado, trailing behind and only fading once Kai turns off his fire fists. Below is a screenshot after the tornado goes away, showing the embers behind a mid-pose Kai.
4. The Final Result
This is the final result! As with all effects I try to pull off, I try to compile a list of things I would like to modify - or that I would like someone else to take a stab at.
I want to try a different effect to "wrap" around the tornado, instead of the Glow layer that I added.
I want to add some subtle smoke - I tried this with some stock footage but I did not like how it turned out.
If you're interested in playing with this process, please do and please share your results here! I'd also be interested in seeing work with a CGI tornado, maybe you can put one together in Blender/Cinema4D/Maya?